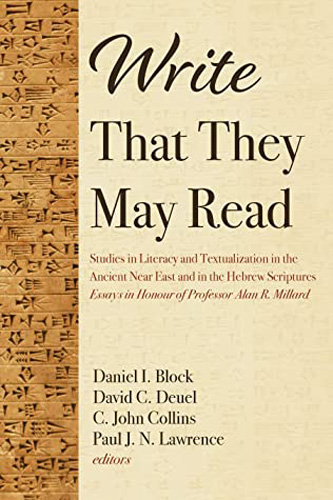 Write That They May Read: Studies in Literacy and Textualization in the Ancient Near East and in the Hebrew Scriptures: Essays in Honour of Professor Alan R. Millard
Write That They May Read is a collection of essays written in honor of our mentor, friend, and fellow scholar, Professor Alan R. Millard. Respectful of his contribution to our understanding of writing and literacy in the ancient biblical world, all the essays deal with some aspect of this issue, ranging in scope from archeological artifacts that need to be ""read,"" to early evidence of writing in Israel's world, to the significance of reading and writing in the Bible, including God's own literacy, to the production of books in the ancient world, and the significance of metaphorical branding of God's people with his name. The contributors are distributed among Professor Millard's peers and colleagues in a variety of institutions, his own students, and students of his students. They represent a variety of disciplines including biblical archeology, Egyptology, Assyriology, Hebrew and other Northwest Semitic texts, and the literature of the Bible, and reside in North America, Japan, the United Kingdom, Denmark, and Germany.
Product Details
Author: Daniel Block
Publisher: Pickwick Publications
Publish Date: 1984-01-01
ISBN-10: 1725252082
ISBN-13: 9781725252080
*If available, BiblicalTraining earns a small commission on book sales.