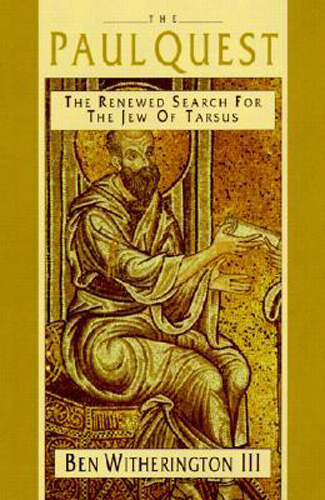 The Paul Quest: The Renewed Search for the Jew of Tarsus
A Christianity Today 1999 Book of the Year! Who was the real Paul? Some of Paul's contemporaries seem to have asked the same question. For some he was Paul the tentmaker. For others he was Paul the heretic, Paul the peripatetic philosopher, Paul the would-be apostle, Paul the prophet, or Paul the founder of Christian communities and missionary hero. For more than a decade there has been a renewed quest for the real Paul behind the Acts of the Apostles and the collection of Pauline letters. Although this quest has not gained the visibility of the renewed quest of the historical Jesus, it is a thriving enterprise joined by Protestant, Catholic and Jewish scholars as well as those interested in Paul as a figure of the first-century Greco-Roman world. One of the great gains of this quest for the historical Paul has been a fresh encounter with Paul the Jew. The flood of new insight into Judaism of the first century has illuminated features of Paul that were previously obscured. A scholarly reacquaintance with the classical Roman world has filled in even more details. In this book, Ben Witherington III examines and evaluates the various profiles of Paul that have been newly discovered or recently refurbished. We encounter Paul as an ancient Mediterranean personality and watch him operate in a social environment where honor, shame, patronage and corporate identity are daily considerations. We discover new dimensions of Paul's epistles as we observe him dictating letters and gauging his rhetoric. We enter into the field of controversy where Paul the apostle and prophet meets his opponents. We reconsider the nature of the human body and Christian community as we meet Paul the anthropologist and champion of woman and slave. Paul, the man of the big idea, shows himself to be in truth a storyteller and interpreter of Israel's holy history. In and through all of these complexities, we discover Paul to be a consistent and coherent theologian and ethicist whose thinking reaches out across nearly two thousand years to engage men and women today. With The Paul Quest Witherington leads an exploratory tour and reappraisal of the historical Paul, a sweeping survey of the contemporary rediscovery of the Jew from Tarsus.
Product Details
Author: Ben Witherington
Publisher: IVP Academic
Publish Date: 2016-01-01
ISBN-10: 830826602
ISBN-13: 9780830826605
*If available, BiblicalTraining earns a small commission on book sales.