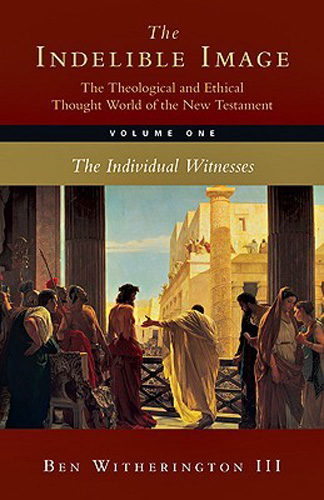 The Indelible Image: The Theological and Ethical World of the New Testament, Vol. 1: The Individual Witnesses
All too often, argues Ben Witherington, the theology of the New Testament has been divorced from its ethics, leaving as isolated abstractions what are fully integrated, dynamic elements within the New Testament itself. As Witherington stresses, "behavior affects and reinforces or undoes belief." Having completed commentaries on all of the New Testament books, a remarkable feat in itself, Witherington now offers the first of a two-volume set on the theological and ethical thought world of the New Testament. The first volume looks at the individual witnesses, while the second examines the collective witness. The New Testament, says Ben Witherington, is "like a smallish choir. All are singing the same cantata, but each has an individual voice and is singing its own parts and notes. If we fail to pay attention to all the voices in the choir, we do not get the entire effect. . . . If this first volume is about closely analyzing the sheet music left to us by which each musician's part is delineated, the second volume will attempt to re-create what it might have sounded like had they ever gotten together and performed their scores to produce a single masterful cantata." What the New Testament authors have in mind, Witherington contends, is that all believers should be conformed in thought, word and deed to the image of Jesus Christ--the indelible image.
Product Details
Author: Ben Witherington
Publisher: IVP Academic
Publish Date: 2009-01-01
ISBN-10: 830838619
ISBN-13: 9780830838615
*If available, BiblicalTraining earns a small commission on book sales.