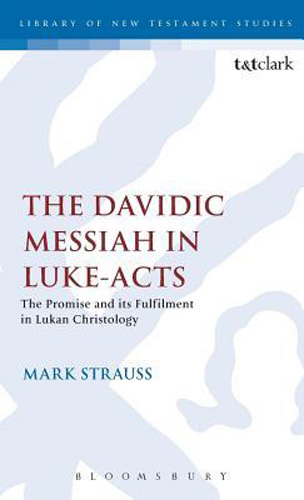 The Davidic Messiah in Luke-Acts: The Promise and its Fulfilment in Lukan Christology (The Library of New Testament Studies)
The nature of Lukan christology has been much debated in recent years, with scholars claiming the pre-eminence of such categories as Lord, Prophet, Christ, or Isaianic Servant. In the present work the author examines one major theme within Luke's christology, that of the coming king from the line of David. A study of the Lukan birth narrative and the speeches in Acts reveals that Luke shows a strong interest in this royal-messianic theme, introducing it into passages which are introductory and programmatic for his christology as a sermon, portraying Jesus in strongly prophetic terms. The author seeks a synthesis of these seemingly conflicting royal and prophetic portraits in Luke's interpretation of the Old Testament book of Isaiah. When Isaiah is read as a unity, the eschatological deliverer is at the same time Davidic king (Isa. 9.11) , suffering servant of Yahweh (Isa. 42-53) , and prophet herald of salvation (Isa. 61) , leading God's people on an eschatological new exodus. On the basis of this synthesis the christology of Luke-Acts is seen to be both consistent and unified, forming an integral part of Luke's wider purpose in his two-volume work.
Product Details
Author: Mark Strauss
Publisher: Bloomsbury T&T Clark
Publish Date: 1995-01-01
ISBN-10: 1850755221
ISBN-13: 9781850755227
*If available, BiblicalTraining earns a small commission on book sales.