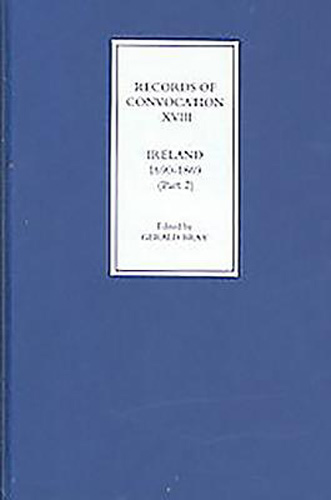 Records of Convocation XVIII: Ireland, 1690-1869, Part 2: Lower House: 1703-13; Both Houses: 1714-1869 (Records of Convocation, 18)
The convocation records of the Churches of England and Ireland are the principal source of our information about the administration of those churches from middle ages until modern times. They contain the minutes of clergy synods,the legislation passed by them, tax assessments imposed by the king on the clergy, and accounts of the great debates about religious reformation; they also include records of heresy trials in the fifteenth and sixteenth centuries,many of them connected with the spread of Lollardy. However, they have never before been edited or published in full, and their publication as a complete set of documents provides a valuable resource for scholarship. This volume contains the [incomplete] acts of the lower house of convocation in the reign of Queen Anne, as well as all the material dealing with the institution's survival after 1713. Of particular interest are the correspondence surrounding the act of union in 1800 and the political manoeuverings leading up to disestablishment in the 1860s. The volume also contains extensive appendixes, including the Nova taxatio of Pope Nicholas IV for Ireland, the Valor ecclesiasticus of Henry VIII and the surviving evidence of Irish clerical taxation from the middle ages to the late seventeenth century.
Product Details
Author: Gerald Bray
Publisher: Boydell Press
Publish Date: 2011-01-01
ISBN-10: 1843832348
ISBN-13: 9781843832348
*If available, BiblicalTraining earns a small commission on book sales.