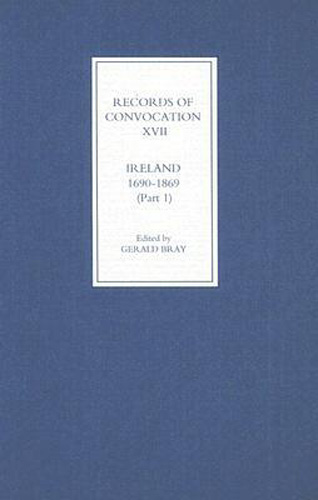 Records of Convocation XVII: Ireland, 1690-1869, Part 1: Both Houses: 1690-1702; Upper House: 1703-1713 (Records of Convocation, 17) (Volume 17)
The convocation records of the Churches of England and Ireland are the principal source of our information about the administration of those churches from middle ages until modern times. They contain the minutes of clergy synods,the legislation passed by them, tax assessments imposed by the king on the clergy, and accounts of the great debates about religious reformation; they also include records of heresy trials in the fifteenth and sixteenth centuries,many of them connected with the spread of Lollardy. However, they have never before been edited or published in full, and their publication as a complete set of documents provides a valuable resource for scholarship. This volume contains the acts of the upper house of the Irish convocation during the reign of Queen Anne, showing how the English convocation controversy played itself out in the very different circumstances of Ireland. Of particular interest are the canons composed during this time and the 'Representation of the state of religion', which [unlike its English counterpart] was adopted by both houses of convocation and published as the Church of Ireland's official assessment of the religious scene there in the generation following the battle of the Boyne.
Product Details
Author: Gerald Bray
Publisher: Boydell Press
Publish Date: 2006-01-01
ISBN-10: 184383233X
ISBN-13: 9781843832331
*If available, BiblicalTraining earns a small commission on book sales.