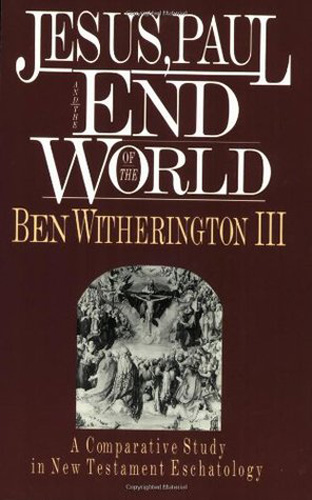 Jesus, Paul and the End of the World
Ben Witherington III (PhD, University of Durham) is Jean R. Amos Professor of New Testament for Doctoral Studies at Asbury Theological Seminary. A prominent evangelical scholar, he is also on the doctoral faculty at St. Andrews University in Scotland.Witherington has written over forty books, includingandboth of which were selected as top biblical studies works byHis other works include , , ,and commentaries on the entire New Testament. He also writes for many church and scholarly publications and is a frequent contributor toand .Witherington is an elected member of the prestigious Studiorum Novi Testamenti Societas, a society dedicated to New Testament studies. He is a John Wesley Fellow for Life, a research fellow at Cambridge University and a member of numerous professional organizations, including the Society of Biblical Literature, Society for the Study of the New Testament and the Institute for Biblical Research. He previously taught at institutions like Ashland Theological Seminary, Vanderbilt University, Duke Divinity School and Gordon-Conwell Theological Seminary.An ordained pastor in the United Methodist Church and a popular lecturer, Witherington has presented seminars for churches, colleges and biblical meetings around the world. He has led numerous study tours through the lands of the Bible and is known for bringing the text to life through incisive historical and cultural analysis. Along with many interviews on radio and television networks across the country, Witherington has been seen in programs such as , ,and the Peter Jennings ABC special .
Product Details
Author: Ben Witherington
Publisher: IVP Academic
Publish Date: 1992-01-01
ISBN-10: 083081759X
ISBN-13: 9780830817597
*If available, BiblicalTraining earns a small commission on book sales.