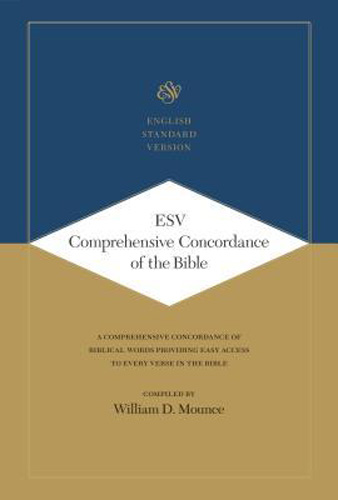 ESV Comprehensive Concordance of the Bible (a Comprehensive Concordance of Biblical Words Providing Easy Access to Every Verse in the Bible) (Bible Esv)
A Companion to the ESV
An essentially literal translation, the ESV Bible combines word-for-word accuracy with readability, literary excellence, and depth of meaning. First published in 2001, it is widely acclaimed for maintaining the elegance of Bible translations in the King James tradition. The ESV Comprehensive Concordance of the Bible provides an excellent study companion for the ESV Bible.
Features of the ESV Comprehensive Concordance of the Bible
Half the size of an exhaustive concordance, the ESV Comprehensive Concordance of the Bible still provides an extensive listing of Bible words. Features include:
Every biblical occurrence of nearly 14,000 words—a total of more than 300,000 concordance entries
Carefully selected verse segments for each entry that help quickly identify Bible passages
Complete entries for numerals found in the Bible
115 frequently used but less essential words ("a," "and," "the," etc.) are excluded
Product Details
Author: Bill Mounce
Publisher: Crossway Books
Publish Date: 2012-01-01
ISBN-10: 1433533677
ISBN-13: 9781433533679
*If available, BiblicalTraining earns a small commission on book sales.