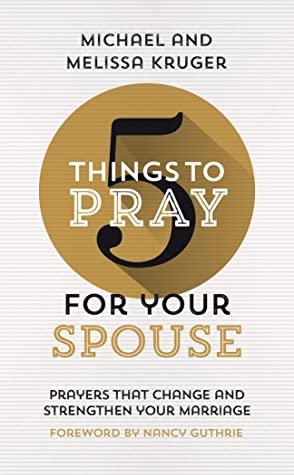 5 Things to Pray for Your Spouse: Prayers That Change and Strengthen Your Marriage
Fresh, biblical ideas to help you pray for your husband or wife.
A happy and healthy marriage is one of God's sweetest gifts to us. And one of the best ways to nurture that is through the power of prayer.
This guide will help you to pray bold, Scripture-based prayers for your husband or wife that will strengthen and enrich your marriage. It covers 21 prayer themes, with each one including five prayer prompts from a particular passage of Scripture. You'll be equipped to pray deep and effective prayers for your spouse's character and spiritual walk, for your life together as a couple and through challenging seasons.
You can use this book to help you to pray on your own or as a couple, and it makes a great wedding, anniversary or Valentines Day gift.
As Nancy Guthrie says in her foreword: "There is a great deal we can do for our spouses. But there is so much that only God can do, so much that only he can develop, and so much that only he can provide. So we pray. And as we pray instead of worry, pray instead of complain, pray instead of strategize, we find that God is not only doing a work in our spouse; he's doing a work in us too."
Product Details
Author: Michael J Kruger
Publisher: The Good Book Company
Publish Date: 2022-01-01
ISBN-10: 1784986623
ISBN-13: 9781784986629
*If available, BiblicalTraining earns a small commission on book sales.