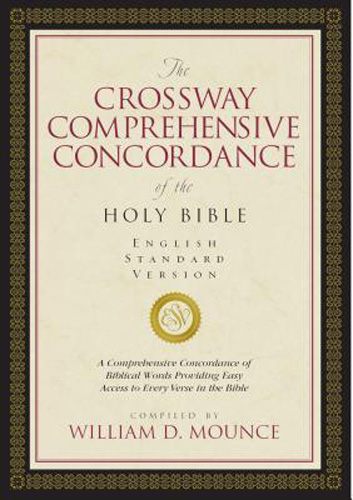 The Crossway Comprehensive Concordance of the Holy Bible, English Standard Version (A Comprehensive Concordance of Biblical Words Providing Easy Access to Every Verse in the Bible)
An Excellent Companion to the ESVThe English Standard Version of the Bible, first published in 2001, is already widely acclaimed as an essentially literal translation that maintains the elegance of Bible translations in the King James tradition.The Crossway Comprehensive Concordance now provides an excellent study companion for the ESV Bible. And as an essentially literal translation, the ESV is ideally suited for both devotional and scholarly study with a concordance.Compact Yet ComprehensiveJust half the size of an exhaustive concordance, The Crossway Comprehensive Concordance can go with you wherever you study the Bible:Keep it at your desk for in-depth study.Bring it to the table for morning devotions.Or explore its pages with your friends in Sunday school or small group.Although compact in size, this concordance is comprehensive in its listing of Bible words:For the nearly 14,000 words listed, every biblical occurrence is included "a total of more than 300,000 concordance entries.The carefully selected verse segment for each entry gives just the clue you'll need to identify the Bible passage you are looking for.For optimal compactness, 115 frequently used but less essential words ("a," "and," "he," etc.) are excluded (see list, page xv).To know God that much better . . .Dr. William D. Mounce, noted Greek scholar, member of the ESV translation team, and compiler of this concordance, concludes his introduction with words that express the deepest hopes of the publishers as well:"I trust that this concordance will help you study the Bible more effectively, give you increased access to the English Standard Version, and at the end help you understand the mind and the will of God that much better.
Product Details
Author: Bill Mounce
Publisher: Crossway
Publish Date: 2002-01-01
ISBN-10: 1581343868
ISBN-13: 9781581343861
*If available, BiblicalTraining earns a small commission on book sales.