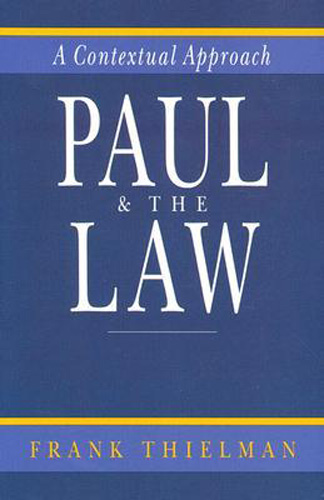 Paul & the Law: A Contextual Approach
No issue in contemporary Pauline studies is more contested than Paul's view of the law. Headline proponents of the "new perspective" on Paul, such as E.P. Sanders and J.D.G. Dunn, have maintained that the Reformational readings of Paul have led to distorted understandings of first-century Judaism, of Paul and particularly of Paul's diagnosis of the Jewish situation under the law. Others have responded by arguing that while our understanding of Paul needs to be tuned to the clearer sounds now emanating from Jewish texts of the apostle's day, the basic Reformational insight into Paul's analysis of the human plight remains true to the apostle. Paul was opposing works righteousness. Paul & The Law is a careful attempt to assault this crucial interpretive problem with a new strategy. Rather than taking a systematic, topical approach, Frank Thielman examines Paul's view of the law in context: the context of each letter's language and argument. While many studies have focused on Paul's explicit statements about the law, Thielman goes further in investigating those contexts where Paul's language is allusive and his view implied. The result is an illuminating and significant contribution to Pauline studies. Paul & the Law clarifies our understanding of Paul's perspective on the law in the light of his gospel of Jesus Christ, and it reaffirms the coherence and integrity of Pauline theology as it relates to this pivotal axis of his thought.
Product Details
Author: Frank Thielman
Publisher: IVP Academic
Publish Date: 1995-01-01
ISBN-10: 830818545
ISBN-13: 9780830818549
*If available, BiblicalTraining earns a small commission on book sales.