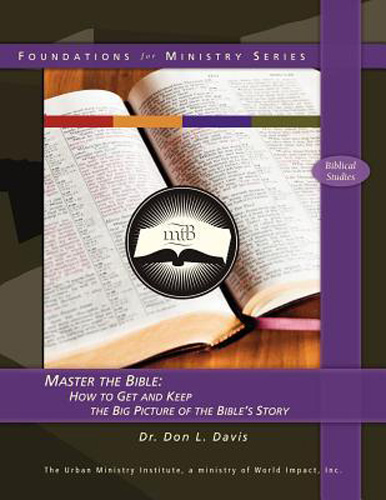 Foundations for Ministry Series: Master the Bible: How to Get and Keep the Big Picture of the Bible's Story
Without question, the most important resource in the development of Christian discipleship and pastoral leadership is a mastery of the sacred Scriptures. The Apostle Paul asserted that not only were the Scriptures "breathed out" by God (making them utterly unique to all other literature) , but that they were "profitable for teaching, for reproof, for correction, and for training in righteousness, that the man of God may be competent, equipped for every good work," 2 Tim. 3:16b-17 (ESV). A mastery of the Bible and its message is critical to every phase of effective urban ministry, and the ability to help others master the Bible is essential to preparing the saints for the work of the ministry (Eph. 4.12). Convinced that Scripture memorization is one of the most efficient and effective means of Bible mastery, we created The Master the Bible System to help develop this discipline in the lives of believers from new converts to Christian leaders. This system is specifically designed to help not only the new believer but also the developing urban disciple to gain a mastery the Bible's central message, texts, doctrines, and themes with a focus on Scripture memorization. Each series highlights a critical theme for Christian growth and spiritual formation, each uniquely enabling the growing Christian to strive toward full maturity in Christ through study, Scripture memorization, and daily meditation upon the Bible's key doctrines, its central story line, the life of Christ, and the disciplines of spiritual growth.
Product Details
Author: Don Davis
Publisher: TUMI Press
Publish Date: 2009-01-01
ISBN-10: 1475175167
ISBN-13: 9781475175165
*If available, BiblicalTraining earns a small commission on book sales.